Bundles of closeout Italian fashion products sold at below wholesale prices.
Are you interested in purchasing a lot?
or
If you are not seriously committed to purchase a lot, please do NOT click the "BUY" button.
(any abuse will bring to a ban from the ItalianModa B2B marketplace)
Payment by bank transfer or
CALZIFICIO DEL BARBA
06 - Luxury Wool Socks

Luxury Man Socks - HAND LINKING
Very elegant and finest quality .
Packaging: Standard Label for each pairs ( number of article and barcode as you want)
Ground Black 39-42 (uk 6-8) 300 pairs + 43-46 (uk 9-11) 300 pairs
Ground Navy 39-42 (uk 6-8) 300 pairs + 43-46 (uk 9-11) 300 pairs
Ground Anthracit 39-42 (uk 6-8) 300 pairs + 43-46 (uk 9-11) 300 pairs
Ground Beige 39-42 (uk 6-8) 300 pairs + 43-46 (uk 9-11) 300 pairs
TOTAL PAIRS 2.400
65%Wool 20%Polyamid 15%Acrylic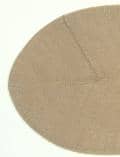 Price of WHOLE lot:
EUR 3,600.00
approx
USD 4,045.07
Quantity in the lot:
2400 Pairs
Shipping:
NOT INCLUDED